Dr. Hemant Vadeyar Consultant General & Gastrointestinal Surgeon
Specialist in Laparoscopic & Robotic Surgery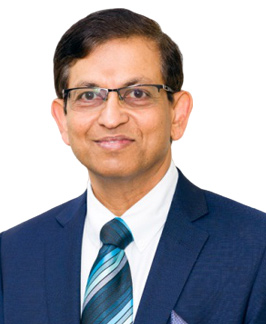 Dr. Hemant is a Consultant Gastrointestinal, HPB & Liver Transplant surgeon with more than 30 years of experience in the UK, India and Germany.
He is experienced in surgeries for stomach, colorectal, liver, gallbladder, pancreas & biliary tract cancer.
He is one of only a few surgeons in the UAE with a special interest and experience in performing complex surgeries of the Liver & Pancreas for cancers as well as non cancerous conditions.
Over the last twenty years, he has performed over 700 liver resections and over 350 pancreatic resections, mainly for cancers of the liver and pancreas.
Apart from that, Dr. Hemant is also experienced in Liver Transplantation and has been an active participant in over 250 liver transplant surgeries including both living donor and cadaveric transplants.
Dr Hemant Vadeyar is a very accomplished minimally invasive surgeon (Keyhole surgery) with many years of experience in laparoscopic GI and HPB Surgery.
He is also an accredited Robotic Surgeon and has performed many major and complex GI & HPB surgeries using the Da Vinci Robot including surgeries for cancers of the stomach, colon, liver and pancreas.
Medical School & Fellowships
MBBS

– Topiwala National Medical College and BYL Nair Hospital, Mumbai

MS

– General Surgery - Topiwala National Medical College and BYL Nair Hospital, Mumbai

FRCS

– General Surgery - Royal College of Surgeons, Edinburgh, UK, 2000

Fellowship

- HPB Surgery – Royal College of Surgeons, Edinburgh, UK, 1996
Royal College of Surgeons, Edinburgh, UK
Indian Society of Surgery
Indian Society of Gastroenterology
Indian Association of Surgical Gastroenterology
Association of Minimal Access Surgeons of India
International Hepato Pancreato Biliary Association
Indian Association of Gastrointestinal Endoscopic Surgeons
International Liver Transplant Society